In 2003, the present CEO of Africa AHEAD provided a consultancy for Care International, who were funded by the Gates Foundation to provide 10,000 latrines to refugees in Internally Displaced Peoples (IDP) Camps in Northern Uganda, where a civil war had been raging for the past 18 years. Over 90% of all the people in the rural villages had been intimidated by the Lords Resistance Army and were forced to live in 33  vast IDP Camps in and around  Gulu town. Sanitation was almost non existent and even leading agencies such as Unicef were struggling  to stop the open defecation around the camps.
By applying the community mobilisation strategy of the Community Health Club approach we were able to reach an estimated 93,000 people through  15,552 members in 120 CHCs, within 16 IDP Camps.  Within 8 months we had successfully persuaded 11,800 households to build the temporary latrines which were subsidized only by the provision of a cement or polyfibre sanplat. This was an outstanding response by any standards and the approach was replicated by other NGOs and taken to Pader to other IDP Camps.
Country: Uganda
Period: 2003 -2004
Donor: Bill & Melinda Gates Foundation
Partner: Care International
Province:
District: Gulu
Number of  IDP Camps: 15
Number of households: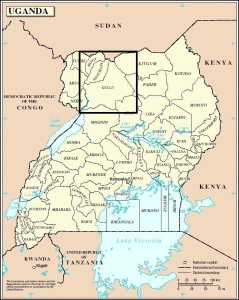 Number of CHCs: 120
Number of Members: 15,522
Average number of members per CHC: 130
Percentage CHC coverage of IDP camps: 42%
Number of field officers based in camps: 25
Number of beneficiaries: 93,132
Although the target was to start 120 health clubs (100 members per club), the number of  members has been exceeded and there are an average of 134 members per club, with a total of 15,522. In some cases trainers  had to split their larger clubs and could not meet the full demand for health sessions.  42%of the total number of households in each of these camps are in the CHCs making coordination much more effective.
In an effort to reach the high target of 10,000 latrines it was planned that sanplat production centres would be set up in each camp to produce a total of at least 6,000 cement sanplats within six months.  The programme also piloted the use of ready-made poly sanplats for the balance of 4,000 remaining latrines which are given as an incentive to the fast adapters in order to speed up the programme.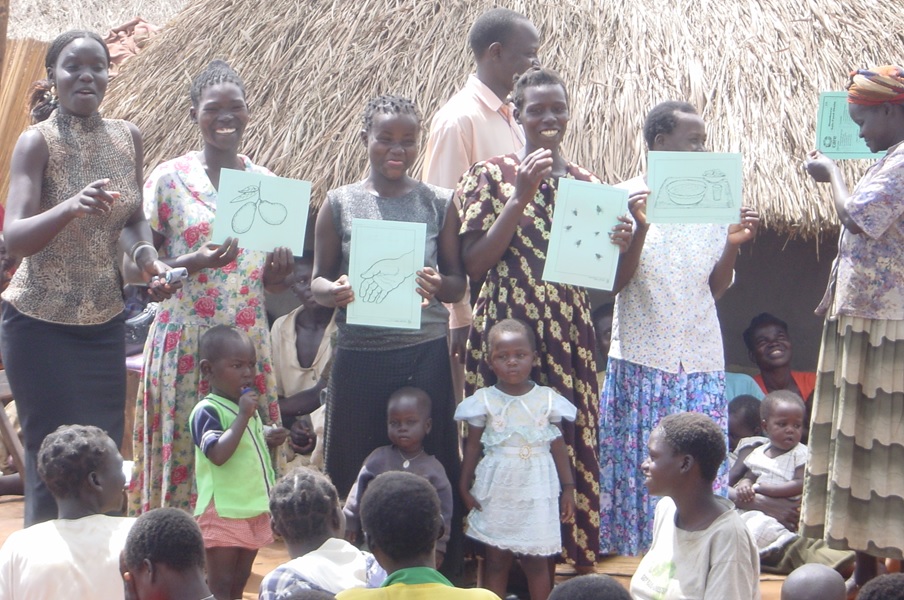 Of the 15,522 members, 87% completed all 20 sessions of the hygiene training. 75% of the members (11,709) constructed  pot racks. 53% (8,145) of the members constructed bathing shelters, and 11% (1,682) constructed hand washing facilities. After 8 months a total of 11,800 latrines were constructed  which surpassed  the target of building 10,000 latrines. Eight of the camps were well over the targeted 50% coverage of health club members.
See Presentation: 2005. WEDC Uganda_Gulu IDP Camps
Reference:
Waterkeyn,J,  Okot,P and  Kwame V. (2005) Rapid Sanitation Uptake in the Internally Displaced People Camps of Northern Uganda through Community Health Clubs. 31st WEDC conference, Kampala.