Rusizi District is one of seven districts of the Western Province in Rwanda and it is divided into 18 sectors, 89 cells and 595 villages. Rusizi District  borders with the Republic of Burundi in the south, and the Democratic Republic of Congo in the west. Thus it is strategically chosen because it is more similar to neighbouring countries where hygiene levels are lower, resulting in spread of cholera and other communicable diseases across the borders.
Rusizi district in Rwanda was selected by Africa AHEAD and the Bill & Melinda Gates Foundation to be the site for a Randomised Control Trial  to ascertain the efficacy of the Community Health Club Model in achieving behaviour change resulting in reduction of many diseases which are preventable through good hygiene. As Rwanda is one of the few countries in Africa to have achieved the MDG targets for sanitation coverage, the RCT had to be in one of the least developed areas of Rwanda. Rusizi District was selected due to having some of the highest incidence of diarrhoea and intestinal worms in the country, with the least number of CHCs and other NGOs.
Africa AHEAD backstops the Ministry of Health to provide a 'Classic' CHC programme in 50 villages and a 'Lite' version in another 50 villages. By December 2016 all 100 villages as well as 50 control villages will have completed the 'Classic' CHC intervention, which involves 6 months of weekly health sessions. The training for the 'Classic CHC' villages started in October 2012 and will be completed by December 2016.
The hygiene behaviour change is being monitored by Ministry of Health using the online survey reported on a dedicated CHC website set up by Africa AHEAD.
Country: Rwanda
Period: 2012- 2016
Donor: Bill & Melinda Gates Foundation
Partner: Ministry of Health
Province: Western
District: Rusizi
Number of Sectors: 18
Number of Villages: 150
Number of households: 4,056
Number of Classic CHCs: 50
Number of Members: 4,056
Percentage CHC coverage: 58.4%
Number of EHTs: 14
Number of CHC facilitators: 100
Number of beneficiaries: 24,336 (50 /150 villages)
Cost of Project: US$925,020 (100/150)
Cost per beneficiary: US$19 (100 villages)
Above: Proxy indicators of Hygiene behaviour change within six months in Rusizi district, 2014-2015 (Africa AHEAD)
Comparison between the mid-line and end-line surveys within the 50 Classic CHC villages shows improvements across as many as 17 hygiene indicators.
Overall the response from the community in the implementation of home works given after each dialogue session has been exceptional.
The highlights include 'drinking water' which has improved significantly in treatment and safe storage from 31.5% to 59.1% – a 21.6% increase .
Improved latrines means that a simple pit latrine has been completed with a cover or made into a VIP. Although this was already high at 68.3% it has also increased by 21%, and now stands at nearly 90%  households with improved latrines of which all but 1.5% are also clean.
Households with appropriate handwashing facilities increased from 67.1%  to 84.6% of which  76% are used and 77.2% have both water and soap.
Safe food preparation has increased from 60.4% to 69.7%  with 14.5% increase in storage of utensils (using pot/dish racks) while 27.8% have changed to use fuel efficient stoves.
Kitchen hygiene is improving with 23% of them having better ventilation in the cooking area while 24% more have proper kitchen floors.
The promotion of kitchen gardens as a means to increase the vitamin uptake by the community has led to an additional 8.4% households creating them in their own backyards.
70% of members now have safe drainage of waste water which increased by 20% with 64.7% with safe access in the hilly terrain .
If we take an average of the 17 observable proxy indicators at midline (after three months of training) we get an average 53.9%, and this increases by 21,48% to an average of  75.38 % at endline (after six months of training is completed).  This is also remarkable because it shows a highly signficant increase of 34.38% from the base line which was taken before the start of the training which  showed an average of 41% of 14 indicators.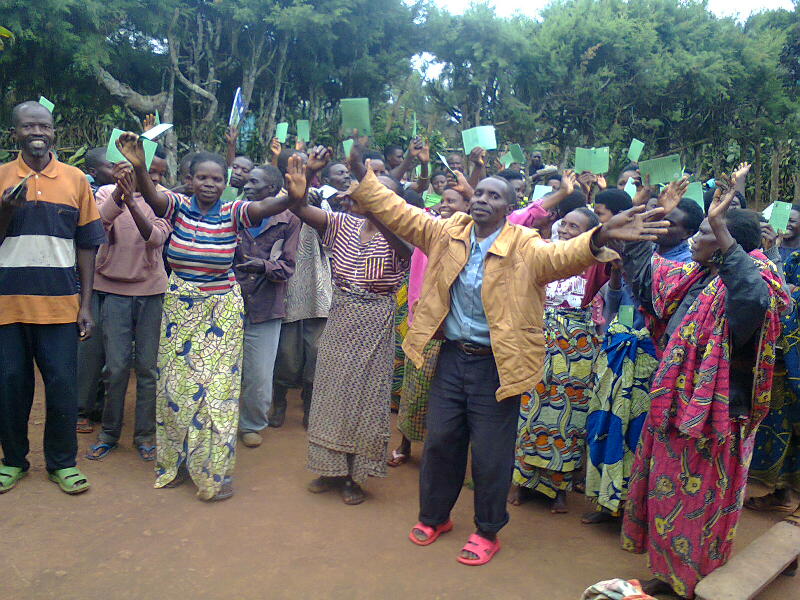 The training of villages health workers known as 'ASOC' from 50 'Classic' CHC villages in February 2014 was facilitated by trained EHOs under the supervision of Ministry of Health and Africa AHEAD. With acquired knowledge and skills, trained ASOC started 50 CHCs and facilitated Community Health Club dialogue sessions and activities in their respective villages. The trained CHC facilitators were given CHC training tools / materials and the dialogue sessions started mid February 2014 after establishment of CHCs in respective villages.
The progress was good due to the close support supervision, the involvement of District and local leaders with local committees in place to solve arising issues and chain of communication established.
At the time of start-up, the district was only nominally engaged with the national programme known as Community based environemental health promotion programme (CBEHPP)  and had a non committal leadership. However the district is now an enthusiastic adherent to CBEHPP and has begun to appreciate the power of the community mobilization evident even after so few months, district leaders are requesting that the programme should expand in order to cover the entire District systematically.
The way the weekly dialogue sessions are conducted in a participatory way using images, sketches/drama, songs and slogans allow for maximum involvement and contribution from everybody  which leads to better understanding and practice at individual and collective levels. Local leaders now recognize the potential of CHCs and have been advocating for them with strong commitment to work with them.  This vital advocacy effort ensures that the village leaders will sustain the  CHCs.
Reference;
2014-2015 Rwanda Annual Report