ECO EAU ET JEUNESSE HAITI (Eco-water & Youth)
This organization started in 2005, focusing on three pillars of development
Education
Health
Environment,
From 2005 to 2007, working in partnership with PAHO/WHO on sickness prevention constructing infrastructure for other NGOs and agencies such as OIM, UNICEF, Canadian Corporation, International Red Cross, PAHO/ WHO.  They built toilet and installed waterpoints in schools, built sport facilities (tennis court, basketball courts, and playgrounds). They sensitized the community on disease prevention and  the environment, organising  clean up campaigns to stop the pollution of the canals.
In 2010-2011, after the earthquake, the administration of Eco-Eau et Jeunesse Haiti managed a big project named Cash and Food for work, and opened a sanitation field with 4000 beneficiaries with World Vision International funds.
In March 2012, WHO in Washington DC suggested they should join a training being conducted by University of Texas in the neighboring country, the Dominican Republic. At their own expense three members from the Eco-Eau et Jeunesse Haiti team, participated  in the first CHC training to be conducted in the Carribeanbeing given by Jason Rosenfeld a representative of the UT Science Center, an  University of Medical in San Antonio, Texas. This training was a direct replication of the CHC Model that Jason had witnessed in Africa AHEAD Projects in South Africa and Zimbabwe, where he had been an intern and then a Project Manager on CHC projects. Fired up with the idea to bring this idea home, Jason has been actively starting up CHCs in Dominican Republic with a small research grant. He developed a Tool kit and manual based on the African experience but adapting it to the peri-urban Caribbean context. the Haiti volunteers ran with the CHC idea.
Just one month after this training in March 2012 the organisation started Behave Eco-Eau et Jeunesse and with Haiti's village leadership started with the first CHCs in Haiti. The training was replicated successfully and by  February 2013 there were 6 clubs that graduated with a total of 184 graduates. This was the first time the CHC approach had been replicated without the driving force of a NGO with all the resources they usually bring to a programme. This was truly a 'people-to people' development initiative.
After five years, Eco Eau & Jeunesse  are working in three different departments: West, North and Center  Haiti with more than 170 communities. This involves 252 volunteer facilitators, 12 supervisors, and solid executive board.
They are also training CHCs for other international NGOs who are supporting their home grown efforts. Over and above the 118 CHCs they started on their own, they have started 36 CHCs for Living Waters International of which 22  have completed training, and 6 CHCs for America Solidaria of which all 6 have graduated. In total 200 CHC facilitators have been trained. This is a huge contribution in human resources in Haiti –  a success story in development which needs to be highlighted.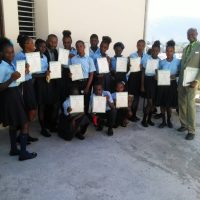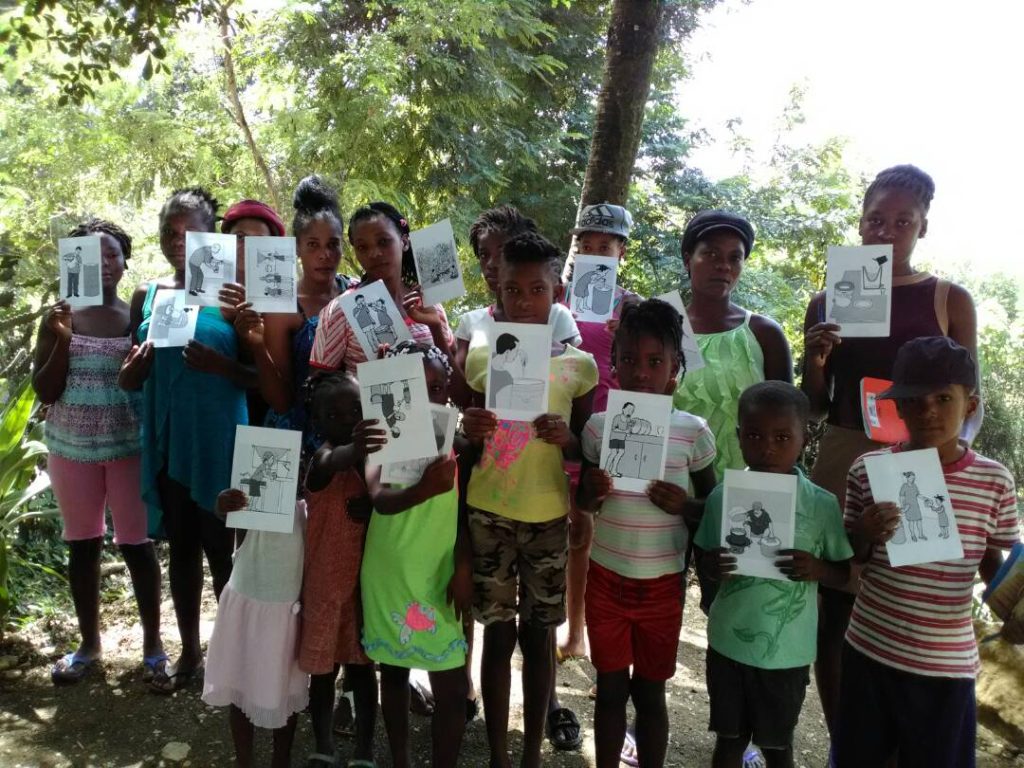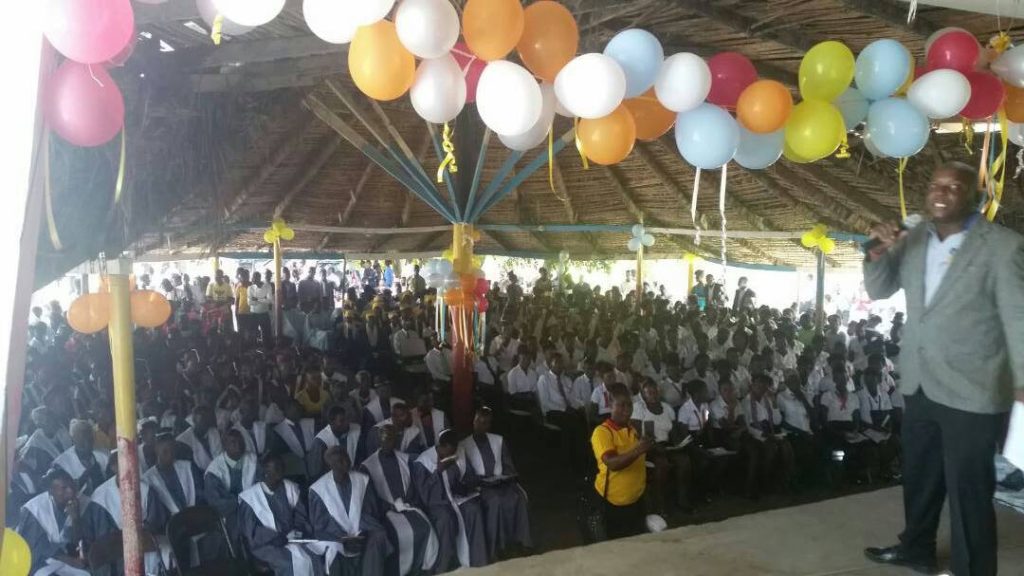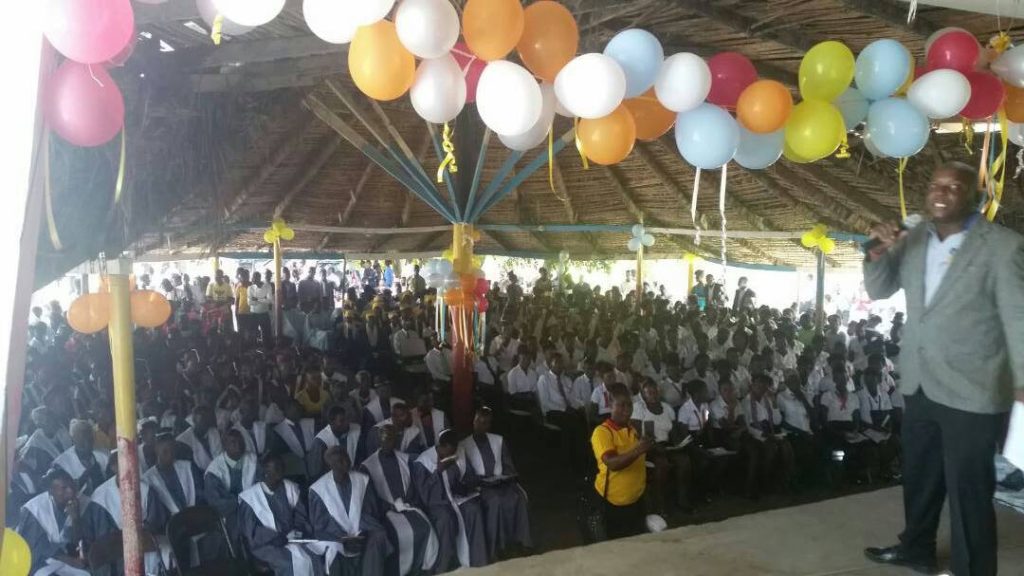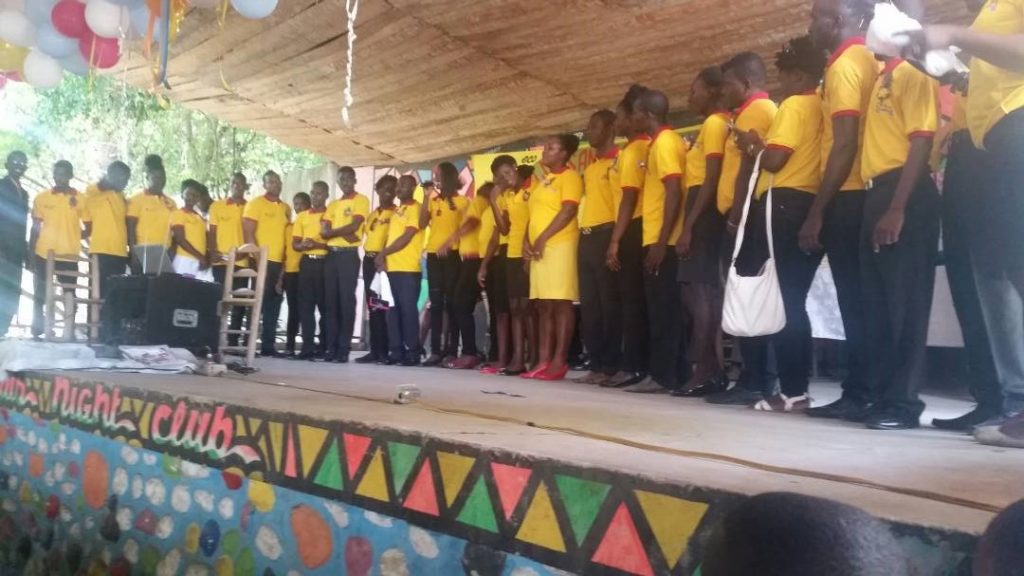 Although this project has nothing to do with Africa AHEAD, we highlight it on this website as it is an example of how the CHC model has a life of its own. We at Africa AHEAD may have provided the spark in the mind of someone like Jason, but we never know where that spark will led. In Haiti it is now a wild fire, with its own momentum. This is true development success.
Contact Details:
#1, Rue EDH, Lathan,
en face de la Sogebank.
Route Nationale #1
E-mail : projetecoeauetjeunessehaiti@gmail.com
Téléphone : (509) 3770-3058 / 3603-1663
Year
Facilitator's trained
Club formed
Club completed
Committee trained
Committee members
2012 – 2013
3
6
6
–
–
2013 – 2014
27
17
17
17
119
2014 – 2015
25
29
29
23
161
2015 – 2016
0
46
–
–
–
2016
26
20
–
20
126
Total
81
118
52
60
406
Living Water International
2013 – 2014
28
23
21
11
77
2014 – 2015
39
24
15
10
70
2016
36
N/A
N/A
N/A
N/A
Total
103
47
36
22
147
America Solidaria
2014 – 2015
3
1
1
–
–
2015 – 2016
13
5
5
5
35
Total
16
6
6
5
35
President Jude Francois, Vice Marie Ruthza, Secretary Miryanne Ermonfils, Assistant Secretary Don Boussard, Treasurer Charles Odilier, PR Rose Jerome, Inspector Rose Silius.