Africa AHEAD  has grown from the bottom upwards since 1999 when we first started as a Trust in Zimbabwe. In 2005 we registered in South Africa, a middle income country, so as to replicate  regionally based out of Cape Town. When our main programme became  based in Rwanda we also registered in that country as a branch of Africa AHEAD. 
 We are still growing  upwards as we adopt an international profile,  registered as a British charity providing a highly professional  umbrella organisation for our implementing  branches in three countries in Africa: South Africa, Zimbabwe and Rwanda. Africa AHEAD is now also registered as Private Voluntary Organisation (PVO) in Zimbabwe.

In Rwanda, Mr Anthony Waterkeyn, has been acting as Country Director for the first year of registration. He now hands over  to Mr Joseph Katabarwa , recently retired from the Ministry of Health,  as Head of Environmental Health Desk, who becomes Country Director in January 2015.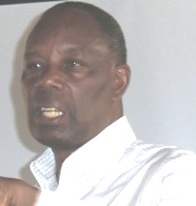 We are also pleased to welcome Mr. Zachary Bigirimana, recently retired Dean of the Faculty of Community Development, who has been given the task of Regional Representative for East Africa to assist the Country Director, so provide support to the Rwandan and Ugandan programmes.
Mr Anthony Waterkeyn remains overall Director of Programmes for Africa AHEAD (UK), and is  line manager for both the Country Directors. Together with Dr Juliet Waterkeyn, who remains  CEO of Africa AHEAD, they continue to lead the team, as we build the strength of our organisation from the bottom up, as a 'southern' NGO.
Our intention is to have two operational  hubs, one in Harare and the other in Kigali, from which we can provide strong teams  to train other NGOs as well as implement our own programmes as we seek to scale up our programmes in Central, East and Southern Africa.
Our strategy for long term sustainability is to remain essentially  a 'southern' NGO.  – a local African organisation but operating  at the same standard as  other international  NGOs. Being indigenous, we are here for the long term,  to provide an institutional memory of best practice in our countries. Primarily we work through  our government to build capacity in the Ministries with which we partner. This is the way we believe that our CHC methodology can have the most impact, scaling up through governmental institutions, who mandate it is to provide a healthy environment for their citizens.